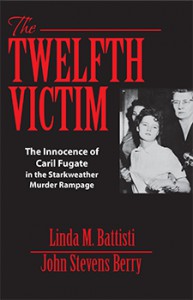 Addicus True Crime in Top 100 Kindle E-book Sales
The new release, The Twelfth Victim—The Innocence of Caril Fugate in the Starkweather Murder Rampage, is ranked in the Top 100 Kindle purchases on Amazon.com. Ranked at 39, the book, by attorneys Linda Battisti, of Ohio, and John Stevens Berry, Sr., of Nebraska, goes behind the scenes to show how unfairly the 14-year-old Fugate was treated by the state of Nebraska after she was arrested in 1958.
Fugate, the youngest person ever on trial for murder in the U.S., was found guilty of being Starkweather's accomplice in a murder spree that left eleven people dead in Nebraska and Wyoming. Battisti and Berry lay out details, showing that Fugate was Starkweather's hostage, doing as she was told so he would not murder her parents and baby sister. Unbeknownst to Fugate, he has already slaughtered her family.
Out-of-Print Books being Re-released
Several true crime books, first published by Addicus Books in the late 90s, have been re-released as e-books. The most recent title re-released is Eye of the Beast—The True Story of Serial Killer James Wood. Other titles, which have been declared out-of-print, are also being released as trade paperbacks.
Through a special program with their distributor, IPG Books of Chicago, Addicus Book will use print-on-demand (POD) technology to print enough books to fill orders in trade paperback form. According to Associate Publisher Jack Kusler, "We are pleased about this development—it allows us to fill orders, in paperback, for books that have long been out of print. We're already seeing orders come in for both e-books and trade paperbacks."
Books off the Press
The most recent books to roll off the presses are Divorce in Washington, by attorney David Crouse and The Twelfth Victim—The Innocence of Caril Fugate in the Starkweather Murder Rampage. The book is written by attorneys Linda Battisti, of Ohio, and John Stevens Berry of Nebraska.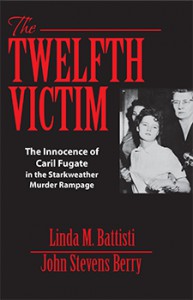 Omaha and Lincoln Newspapers Cover The Twelfth Victim
The Lincoln Journal Star praises The Twelfth Victim—The Innocence of Caril Fugate in the Starkweather Murder Rampage. In a review by Charles Stephen, the Journal Star says, "These two authors, both attorneys, have written a powerful and disturbing book about what they call a major, even brutal miscarriage of justice [for Caril Fugate]. Readers, I think, will agree that is was a travesty. To read the full review by Charles Stephen click here.
The Omaha World Herald covered the release of The Twelfth Victim saying, "A new book claims that prosecutors and police conspired to win a murder conviction against the teen girlfriend of mass murderer Charles Starkweather. Among other things…the book maintains that Starkweather was 'coached' to provide false testimony against Caril Ann Fugate and that evidence was withheld indicating that she was his hostage and not a participant [in the murders]."
This Fall: New Edition of Breast Cancer Book Released
The fifth edition of Straight Talk about Breast Cancer will be released in mid-October. One of the Addicus Books' best-selling titles, the first edition was released in 1994. Since that time, the book has sold well over 100,000 copies and is used by hospitals, cancer clinics, and state health departments across the country. We are pleased to announce a new co-author has joined our slate of authors for the fifth edition. The new co-author is Margaret Block, MD, a medical oncologist of Omaha, Nebraska.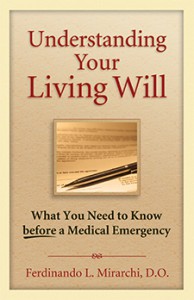 ER Physician Continues Campaign to Clarify DNR Orders
An article by emergency room physician, Fred Mirarchi, D.O., author of Understanding Your Living Will, is published this month in the blog of the National Patient Safety Foundation. Dr. Mirarchi calls attention to what he calls a widespread misunderstanding of living wills and DNR (Do Not Resuscitate) orders among doctors and nurses. Dr. Mirarchi opens his article as follows:
"Joe is a 59-year-old male who presents to a local emergency room with chest pain. He is pale and sweaty. The emergency medicine physician reviews his EKG, which shows Joe is actively having a heart attack. Joe's heart becomes irritable and erratic, and he goes into full-blown cardiac arrest. Saving him will require shocking his heart. Joe has a living will, which the nurse gives to the physician. What should occur next? Does Joe get shocked and live, or does Joe not get shocked and die? What treatment is right for Joe?
These are questions that had never been asked or answered through research prior to the TRIAD (The Realistic Interpretation of Advance Directives) studies (Mirachi et al. 2012), which showed widespread misunderstanding among clinicians about advance directives. We now know that this area represents a nationwide patient safety issue."
Connecticut Attorney Makes TV Appearance
Attorney Reneé Bauer appeared on WTNH TV this month to discuss her new book, Divorce in Connecticut. Bauer is founder and principal of the Bauer Law Group, LLC where she focuses exclusively on family and matrimonial law. Her book is among the series of divorce books being published by Addicus Books.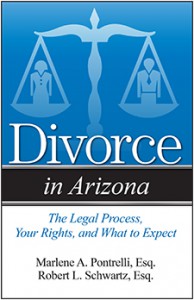 Divorce in Arizona Is Off the Press
Another title in the Addicus Books series on divorce is off the press Divorce in Arizona is authored by Phoenix attorneys Marlene Pontrelli and Robert Schwartz. They are members of the Dickinson Wright Law Firm.
Library Journal Praises 5th Edition of Breast Cancer Book
Library Journal cites the forthcoming, fifth edition of Straight Talk about Breast Cancer in a recent article about books on breast cancer being released in October—National Breast Cancer Awareness Month. The new edition of Straight Talk about Breast Cancer marks the twentieth anniversary of the book's release in 1994. More than 125,000 copies of the book are in print.
Lead author Suzanne Braddock, M.D., is a breast cancer survivor. "I am amazed and gratified, first that I am alive, and second that the book has filled a need," Dr. Braddock said. "Requests for the book from around the country have prompted us to continue updating and printing it. If the book helps just one person it will have accomplished my goal in writing it."
Book on Vision Correction Due Out in Spring 2015
The new book, Life without Glasses, by Los Angeles Ophthalmologist Robert K. Maloney, M.D., will be released in the Spring 2015. The book will cover the latest surgical techniques in correcting vision surgically; these techniques include LASIK and PRK, which is similar to LASIK. The book also covers implantable contact lenses and refractive lens exchange, both of which involve inserting new acrylic lenses in the eye. This will be the third Addicus book from Dr. Maloney. He's also author of LASIK and Cataract Surgery.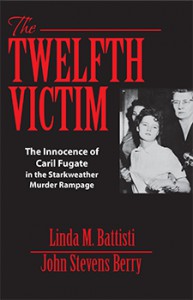 Authors of The Twelfth Victim Speak in Lincoln
Attorneys Linda Battisti and John Stevens Berry sign copies of their book, The Twelfth Victim, at the Bennett Martin Public Library in Lincoln, on Sunday, October 19. Prior to the book signing, they gave a reading in the library's auditorium.
More Titles in the "Divorce Series" Coming…
Another title in the Addicus Books "Divorce Series" is off the press—Divorce in Virginia, by attorney Steven L. Raynor of Charlottesville, Virginia. Two additional titles are heading to press early in the Fall; they are Divorce in Arizona, by attorneys Marlene Pontrelli and Robert Schwartz, and Divorce in Wisconsin, by attorney Linda Vanden Heuvel.