Blue Moon Books is an imprint of Addicus Books.
New from Blue Moon: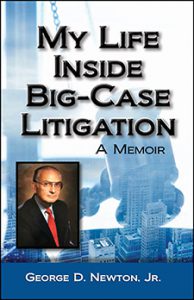 My Life Inside Big-Case Litigation: A Memoir
George D. Newton, Jr.
George D. Newton, Jr. is a native of Geneseo, New York, small town of 2,500 in western New York State. He was raised there along with two older brothers and a younger sister. George excelled in high school academics and continued his education at Harvard College, having earned a Harvard Club of Rochester scholarship.
George had early exposure to the law through his father, who graduated from Harvard Law School and maintained a practice in Geneseo for many years; his father was also elected County Judge and thereafter served six years as Justice of the Supreme Court of New York (statewide trials). George's paternal grandfather was a successful trial lawyer in western New York and became a State Senator in 1914. He also served as Attorney General of New York State from 1918-1922.
While at Harvard College, George gained admission to three law schools: Harvard, Michigan, and Yale. After two years serving in Army Counterintelligence, including a year in Korea, he elected to attend Yale Law School. George graduated in 1958 and joined the Chicago law firm of Kirkland & Ellis. For twenty-seven years he worked on cases defending corporations such as Standard Oil (Indiana), Firestone, General Motors, Westinghouse, and International Harvester.
In 1985, George became Deputy General Counsel of Reynolds Tobacco in Winston-Salem, North Carolina. Five months later he helped win two important "smoker cases" in Kentucky and California. Reynolds never lost a case during his tenure. After Reynolds was sold to Kohlberg Kravis and Roberts & Co (KKR), George retired in 1991 and became an Adjunct Professor at Wake Forest Law School, where he taught Complex Civil Litigation for thirteen years.
Why did George write this memoir? "I was fortunate to have such a satisfying career. I loved my work. I worked with many talented people on many complex and challenging cases. I simply wanted to share my experience with others."
Available from Amazon.com or direct from Addicus Books:

The Life I Built: Memoir of a Home Builder, Husband, & Father
Jerry F. Duggan
Jerry Duggan, a native of Council Bluffs, Iowa, is a respected businessman whose career has spanned 60 years. In 1954, he started J.F. Duggan Construction Company and went on to build more than 900 homes in the area. He also became a land developer and, in 1974, he started his own real estate company—Duggan Realty.
In The Life I Built, Jerry reflects on how he developed these businesses. He also shares details about his childhood and growing up in Council Bluffs in the 1930s and '40s. But, Jerry will tell you the most important thing he built was a family. In this memoir, he shares many heartwarming stories about his wife, Dolores, and their seven children.
Jerry enriches his story by having each of his seven children contribute memories of their lives growing up in the house their dad built.
Saddle Up
Untold Stories about Vietnam from an Army Infantryman
Charles Gorman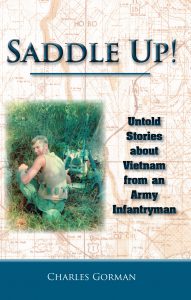 A Vietnam memoir with a different twist. Jennifer Branch was just two years old when her father Army Captain Branch was killed in combat in Vietnam. When she grew up, she discovered letters he had written home, and she wanted to know what her father was like from the men in his command. Through reunion groups, she found Charles Gorman, a guidance counselor in Plattsmouth, Nebraska, who had been Branch's radioman.
It was Jennifer's request and Gorman's own sense of urgency to write about his combat tour in Vietnam in 1969 that sparked the writing of this memoir. Gorman dredges up the nightmares of the daytime patrols away from the relatively safe Fire Support Bases and forays into the deadly dangerous booby traps and punji pits in Hobo Woods.
In Saddle Up!, Gorman documents the terrifying nighttime ambushes, calling in "dust offs" to medevac out the dead and wounded to Cu Chi, and the daily indignities of living in monsoons or heat and humidity with mosquitoes, mines, and mortars.
No need to see the movies about Vietnam, this is the real deal about riding the chopper's skids and dropping into LZs, stepping carefully into the footsteps of the point man to avoid trip wires that could send you home in a body bag, zipping your buddies into those body bags, diving into water-filled rice paddies while under attack, and praying the mortars would fall short and allow you to go home alive or at least in one piece. Purchase here.
Towing the Line for the Lord: My Story
H.R. Neff
Call H.R. Neff a self-made man and you won't get an argument from anyone who knows him. To everyone who's mad his acquaintance, this octogenarian represents the American Dream come true—A Missouri farm boy using his wits to overcome adversity and become the owner of a million-dollar towing business.
Short on formal education, but blessed with brains, personality, and integrity, H.R. attended the school of hard knocks and learned volumes. Those lessons served him well throughout his life, including his thirty-nine years as the owner of Neff Towing in Omaha, Nebraska.
H.R.'s life is the story of Midwestern values in action—hard work, persistence, love of family, and faith in God. If you ask him, H.R. will tell you his real success story is one of faith that triumphs over any challenge, personal or professional, faith that is only strengthened by trials.
If you as H.R. about his life's journey, he'll be quick to tell you the Lord has been with him every step of the way.
Packed with powerful stories of one man's journey through life! Purchase here.
Sides: Conversations with Dad
Diane Halperin
Sides: Conversations with Dad, by Diane Halperin, is a labor of love—a story that speaks of the lifelong relationship Ms. Halperin had with her father, Yale. Always there for each other, they related from a place of respect, love, humor, and understanding—usually.
Diane's father passed on April 5, 2003, but the story doesn't end there. Yale's daughter began to miss his voice as well as his wisdom and became determined to find a way to connect with him and continue their relationship.
A therapist by profession, Diane had long used the mirror technique with her clients as a way for them to connect with the deeper layers of self and learn to love themselves. She decided to use the magic of the mirror herself, reasoning that if she could connect with her higher self in that way, then perhaps she could reach her dad using the same portal. She was right. Sides is the story and conversations that have come through that "portal."
Sides: Conversations with Dad is a story of a shared journey on this earth and beyond, highlighting the richness of a loving, evolving, on­going relationship between a devoted daughter and father. Purchase here.
Sympathy for the Devil
Tom Kiesche
Continually at odds with the brass of the Los Angeles Police Department and the paparazzi, Mitch Ryan has a gift for giving himself powerful adversaries.
After pulling himself off a barstool to discover a gorgeous reality-TV star bleeding-out in a back alley, the ex-cop puts himself square in the sights of an internationally feared Colombian street gang, an insanely hot voodoo priestess, and a culture sick with celebrity.
Sympathy for the Devil is a pop-culture flash meets suspenseful, sexy noir in a cynical contemporary tale filled with ripping repartee and Old Testament consequences. Purchase here.