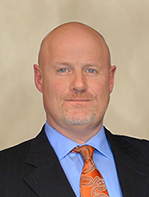 David J. Crouse is the founding partner of David J. Crouse & Associates, PLLC. His career has focused exclusively on family law-related work. David has been published in the Gonzaga University Law Review and in other publications. He is a frequent lecturer at Washington family law-related continuing legal education courses. David has been elected to the Order of Barristers for excellence in courtroom advocacy. He has received multiple American Jurisprudence awards for legal writing and oral advocacy. He has served as a Superior Court judge pro tem.
David earned his bachelor of arts degree from Gonzaga University and went on to obtain his law degree, with honors, from Gonzaga University School of Law in 1993. While at Gonzaga University School of Law, David won the client counseling competition and the Linden Cup Competition. The Linden Cup is a competition to determine the best oral advocate in the law school. Following Linden Cup, David competed in National Moot Court against all other United States law schools. He, along with his partners, received the "best legal brief in the nation" recognition and finished second in the nation in oral advocacy.
David's firm website can be found at: www.crouselawgroup.com.
Titles by this author: