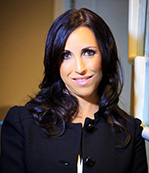 Reneé C. Bauer, is founder and principal of the Bauer Law Group, LLC where her career has focused exclusively on family and matrimonial law. Renee is recognized as a leading practitioner in the field of family law. She is a highly skilled negotiator and litigator representing individuals in all facets of domestic relations.
Reneé's focus is on assisting clients during their time of tough transition by providing support and clear direction to their path. She helps clients view their options from an enlightened lens. Reneé's greatest contribution and joy is found through encouraging, educating, and empowering her clients.
Reneé has received numerous awards and honors within her profession. In 2012, she was the recipient of the Connecticut Law Tribune's award entitled, New Leader in the Law. This prestigious award was only given to sixty attorneys in Connecticut. Reneé was also named a New England Rising Star by the New England Super Lawyers publication in 2010, 2011, 2012, and 2013. Furthermore, she was highlighted by the Connecticut Law Tribune in a special section entitled, Women in the Law in 2010.
Reneé is on the faculty of Conflict Resolution Training, teaching mental health professionals the art of divorce mediation. She has taught numerous seminars through Connecticut on mediation as well as law firm management and branding. She has made television and radio appearances and is often called upon by local media to report on current family law stories.
Reneé authored the book The Ultimate Guide to Solo and Small Firm Success (Law First Publishing). She is also a contributing author to the Connecticut Divorce Practice Manual published by MCLE. Reneé has written articles for the Connecticut Law Tribune, The Connecticut Lawyer, Natural Awakenings Magazine, and The American Association/or Justice newsletter.
Reneé earned her Bachelors of Arts degree from the University of Connecticut and went on to obtain her juris doctor from Suffolk University Law School in 2003. After learning the ropes of family law in a small, private firm, Reneé opened her practice in Hamden, Connecticut in 2007.
Reneé is a member of the New Haven County Bar Association and the Connecticut Bar Association. She is also a member of the Connecticut Council for Non-Adversarial Divorce and the Association of Family and Conciliation Courts. Since 2004, Reneé provided pro bono services to clients through the Connecticut Pro Bono Network. She is admitted to practice in the State of Connecticut and the United States District Court for the District of Connecticut. Reneé is a certified mediator and Guardian Ad Litem (GAL) and Attorney for the Minor Child (AMC).
Reneé may be reached through www.FamilyLawyerCT.com or www.BauerMediationGroup.com.
Titles by this author: