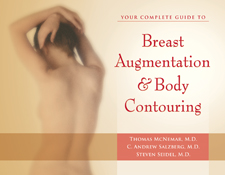 REVIEW
Consumer Connection
Newsletter of the Medical Library Association.
Your Complete Guide to Breast Augmentation and Body Contouring
McNemar, Thomas, MD; Salazberg, Andrew, MD; Seidel, Steven, MD. Addicus Books, 2006. 140 pages; 9.5×8 size, trade paperback, 4-color throughout. Resource section, glossary, index. ISBN: 1-889039-74-4. $21.95.
Are you a woman wanting to improve your appearance and boost you self-confidence? Many women feel the need to have breast augmentation surgery. This guide is for women who feel their breasts are too small, and are seriously considering breast augmentation. This book provides women with an understanding of what is involved with breast surgery and other body contouring surgeries.
The authors of Your Complete Guide to Breast Augmentation & Body Contouring are plastic surgeons and have performed thousands of cosmetic procedures. The authors have web sites which provide additional information. They have consulted with women and understand the issues that are important to them. Questions women should ask themselves and their doctors are posed.
The authors also cover other common body contouring procedures, including tummy tucks, and liposuction of the stomach, hips, buttocks, highs, and knees. Dozens of before and after color photos help further envision the potential results of cosmetic breast surgery.
This book is written in an easy-to-understand style and will help you make an informed decision. A glossary helps with the more technical terms. There is a great resource section with high quality web sources. This is an informative and sensitive guide for every woman considering cosmetic breast surgery.
Julie Johansen, MLIS
Medtronic, Inc.
Shoreview, MN 55126