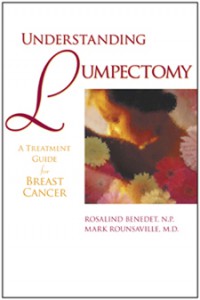 REVIEW
Library Journal
Understanding Lumpectomy: A Treatment Guide for Breast Cancer
Benedet, Rosalind, NP (Author)
Rounsaville, Mark C. (Author)
Benedet, N. P. (Author)
ISBN: 1886039623
Publisher: Addicus Books
Published: 2003-08
Binding/Price/Pages: Paperback,$14.95 (164p)
Subject: Health & Fitness / Diseases / Breast Cancer
Reviewed: 2004-02-01
Oncology nurse Benedet (After Mastectomy) and radiation oncologist Rounsaville have created an informative little book that covers the basics of lumpectomy or breast conservation surgery. Fast becoming a popular alternative to mastectomy where appropriate, lumpectomy followed by radiation is considered as effective as mastectomy alone in treating breast cancer and equivalent in its survival statistics. Variations in diagnoses, treatment, adjuvant therapy (chemotherapy and hormonal therapy), and radiation are presented here in short, easily digested sections with large headings. The authors cover postsurgical situations, side effects of chemotherapy and radiation, diet, exercise, and coping. Some of the material is identical to hat in After Mastectomy. Though far from in-depth, the volume offers enough detail to take the initial trepidation out of treatment decision-making. Recommended for comprehensive patient health collections.
—Bette-Lee Fox, Library Journal