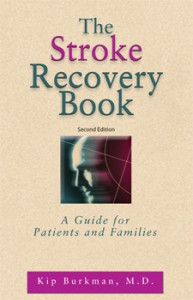 REVIEW
Consumer Connection
The Stroke Recovery Book. 2nd edition.
Burkman, Kip. Addicus Books, 2010. 144 p. index. ISBN 978-1-886039-98-8. $19.99.
Burkman's goal in this new edition of his 1998 book is to educate patients, families and caregivers about stroke and the rehabilitation process. He provides a basic overview about stroke and what to expect, including warning signs, actions to take, causes and possible impairments. Through the eyes of a rehabilitation physician, he explains how living with stroke is different for everyone and stresses the importance of patience in healing and therapy. More than half of the book details how stroke may affect the patient and the process of restoring activities of daily living, relearning speech and swallowing, and gaining strength and coordination. Incontinence, sexual issues and other complications are also mentioned. Remaining chapters discuss the rehabilitation team, types of care centers, levels of care, adaptive devices, returning home and/or back to work, and the challenges facing caregivers.

Helpful photographs, diagrams of the brain, glossary, resource list, and quotes from survivors are included, but formal references and sources for statistics are lacking. While this book provides valuable initial information for families experiencing stroke, those wanting more in-depth information may find Richard Senelick's Living with Stroke: a Guide for Families, 4th ed., 2010, more helpful.
Nancy O'Brien, Iowa Health – Des Moines, Des Moines, IA.
REVIEW
Library Journal
The Stroke Recovery Book: A Guide for Patients and Families
Burkman, Kip (Author)
ISBN: 1 886039305
Publisher: Addicus Books
Published: 1998-01
Binding/Price/Pages: Paper Textbook,$14.95(172p)
Subject: Health & Fitness / Diseases / Nervous System (incl. Brain)
Relationships / General
Ages
Reviewed: 1998-11-01
Like Geoffrey Donnas and Card Burton in After a Stroke (North Atlantic, 1992. 2d ed.), Burkman, a physical/medicine and rehabilitation specialist. summarizes the causes, complications, and types of strokes and then/discusses recovery, rehabilitation, and prevents on. But while Donnan and Burton offer a more holistic perspective/Burkman adds something else to his treatment of the topic: a table listing the warning signs of stroke—critical information considering that "there is a 10 to 18 percent risk of having a second stroke in the first year immediately/following a stroke." A useful resource list provides addresses and phone numbers (and Internet sites, when/available) for government agencies and national stroke organizations. However, the lack of references is frustrating/Sources of statistics are identified incompletely(and sometimes not at all), and no medical or additional consumer health literature is suggested. Still, this guide is valuable as a readable introduction to the topic, Recommended for public libraries and consumer health collections.
—Ximena Chrisagis, Wright State Univ Libs., Dayton. OH
BOOK REVIEW
ADVANCE for Physical Therapists and PT Assistants
Reviewed by Linda B. Horn, PT, NCS
Family-Focused Stroke Text Gives a Fresh Perspective to Experienced Therapists
Imagine…you can't walk, you can't move your arm, you can't tell anyone that something is wrong. Kip Burkman, M.D., begins The Stroke Recovery Book: A Guide for Patients and Their Families by describing what it may feel like to have a stroke.
As a health care professional, we might have some clue what is going on if this happened to us, but most individuals do not have this advanced level of knowledge. Our patients and families then enter a new phase that is very foreign and scary to them.
This book puts the anatomy, impairments, rehabilitation and prevention of stroke into simpler terms for the family and patient. Terms that are part of our everyday vocabulary, such as aphasia, apraxia, dysphagia, and proprioception, are explained in terms that most people can understand. The book is easy to read and only has 116 pages of text (excluding resources and glossary). There is a good resource section and a glossary at the end.
Muscle tone is defined in the section discussing muscle strength. This section may be confusing to our patients and families as it focuses on muscle strength as the major impairment. Over time, disuse atrophy and muscle weakness can lead to many functional limitations and disability; however, motor control and problems with muscle tone (especially in the acute phase) are not addressed.
Throughout the book, there are short quotations from patients that after insight to the reader. Many of the quotes focus on working hard and having determination in order to get better. There are also quotes from therapists and nurses that refer to he recovery process.
The one question all patients and families ask is, "How long?" There is a small section in the book that discusses this topic. References are made to the Copenhagen study that found most recovery was complete within three months (minimal progress after that time). This study does not discuss the type of treatment in any detail and should not be used as a reason to discontinue therapy. Vague comments regarding studies that have shown improvement in patients with chronic stroke are also in this section. Again, the types of treatment are not discussed.
The pictures used in the book are a bit outdated. None of them shows he patient interacting with the therapist. The pictures include walking in the parallel bars with the knee braced, and gravity-eliminated upper extremity exercises with the arm in a sling. (Note: This refers to the photos in the first edition of the book. In the second edition, new updated photos have been added.)
These pictures do not give an accurate picture of how therapists interact with their patients or the variety of treatments that are available. This superficial  description of therapy (both physical and occupational) is probably because the book was written from a physician's perspective.
Overall, The Stroke Recovery Book is a good resource for patients and families. The therapist can then supplement the text with more in-depth explanations of muscle tone and different treatment approaches available.
I would also recommend this text for students interested in physical therapy as it provides good introductory information. The Stroke Recovery Book may also be beneficial to physical therapy students who have not had the opportunity to interact with individuals who have had a stroke.
As a clinician with more than 18 years of experience primarily in acute and outpatient neurology, I found that reading The Stroke Recovery Book made me think about how I explain the impairments from stroke to patients and their families. The terms were familiar, but it is important to remember that this is all new to patients and their families.
Linda B. Horn is research and regulatory compliance coordinator at St. Agnes Health Care in Baltimore.