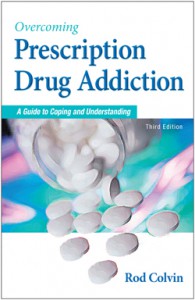 REVIEW
Consumer Connection
Overcoming Prescription Drug Addiction: A Guide to Coping and Understanding
Colvin, Rod
Addicus Books, Inc., 2008
188p. appendices and index.
ISBN 978-1-886039-88-9. $19.95.
…".this well-documented book presents the subject in an authoritative manner. Recommended as an addition to consumer health collections."—Consumer Connection
Overcoming Prescription Drug Addiction was written in response to the death of the author's brother on his thirty-fifth birthday due to long-term addiction to prescription drugs. Although Ron Colvin is not an expert on drug addiction (his degrees are in sociology and counseling psychology) and is the publisher of Addicus Books, this well-documented book presents the subject in an authoritative manner.
The primary and most comprehensive section of the book, Coping with Addition, is divided into seven chapters: Understanding Addiction, Voices of Recovery, Treatment for Addiction, Insights on Recovery from Addiction Medicine Physicians, Support for Families, Pain Management and Addiction, and Seniors: At Risk for Drug Misuse and Addiction. Understanding Addiction includes many references; for instance, a definition of "drug abuse" comes from Jaffe's The Pharmacological Basis of Therapeutics and a Prescription Drug Abuse Checklist is reprinted from the Women's Alcohol and Drug Education Project.
Several chapters include first-person accounts by either former addicts and their families or addiction medicine specialists. Interestingly, many people become addicted to prescription drugs which are prescribed for a legitimate medical condition (i.e., chronic pain from Crohn's disease, kidney stones).
The second section of the book deals with Obtaining Fraudulent Prescriptions and the art of addicts diverting drugs from physicians and pharmacies.
The last section discusses local, state, federal, and international efforts to curb drug abuse.
Two appendices are included: Categories of Controlled Substances and Drugs to Avoid if You're Over Sixty-Five. A comprehensive list of resources and associations completes the book.
Although the readability of this book is at the eleventh grade level, it is recommended as an addition to the consumer health collection.
Donna J. McCloskey,
MLIS, Presbyterian Hospital Huntersville
Health Information Center, Huntersville, NC
REVIEW
John Harsany, Jr., M.D.
President California Chapter
American Society of Addiction Medicine
Overcoming Prescription Drug Addiction: A Guide to Coping and Understanding
Rod Colvin, M.S.
A recent article in USA Today stated that, "Prescription drug addiction in the US exceeds 26 plus million. This makes prescription drug addiction easily outrank alcohol dependence and become our number two addiction concern with nicotine addiction being number one."
Mr. Colvin's book is comprehensive with respect to all aspects of diagnosis of prescription drug addiction. It is an excellent resource for the practicing addiction medicine specialist to use for himself, his patients and their significant others. Especially helpful for the practitioner is the section on "Seniors", "Doctor Shopping", "Pain and Addiction", and "Internet Pharmacy Shopping". I found particular significance in recent accelerated prosecution by the DEA. of "Doctor Shoppers".
The book offers a simplistic, yet insightful review of the process of Prescription Drug Addiction which is a chronic, progressive and deadly disease if not addressed!
We use this book in our local Recovery programs such as (S.O.A.R.) Seniors Outreach Over Alcohol and Rx (Prescription Drugs) as an excellent adjunct resource in our aftercare plan.
I highly recommend this book to the practicing addiction medicine specialist and also as an adjunct resource for your patient and their families. All resources are needed to deal with our number two insidious and growing addictions in the USA.
John Harsany, Jr., M.D. F.A.S.A.M.
Internal & Addiction Medicine
850 E. Latham Ave., Suite A
Hemet, CA 92543