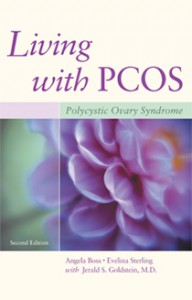 REVIEW
Consumer Connection
This is the second edition, co-written by women who were both diagnosed with PCOS themselves. In this book, the authors show a deep passion for women with PCOS. Angela Best Boss has a BA from Virginia Wesleyan College and a master's degree in counseling and ministry from Virginia Union University. She is the health education director of The Polycystic Ovarian Syndrome Association (PCOSA), the international PCOS support group. She also serves as director of communications for the local Indiana PCOS chapter. Her frequent articles on PCOS and infertility are published online at www.conceivingconcepts.com. Evelina Sterling is a certified health education specialist and consultant to various nonprofit agencies in health services research. She holds a BS in biology and a Master's degree in health sciences from Johns Hopkins U.
Jerald Goldstein, MD, board certified, is a reproductive endocrinologist and OB/GYN physician in Dallas, Texas. He has extensive experience in infertility, PCOS, and recurrent miscarriage.
It is well-written and easy to understand. We have three other books on this topic, (Healing Syndrome O by Feinberg, 2004, PCOS Dietbook by Harris,2002, and Polycystic Ovary Syndrome by Eden 2005) which are all good, but I think this one is my favorites in its ease of use and clear understanding of subject matter, and of course being the most current. They do a great job of providing the information to enable the reader to ask the right questions, become knowledgeable and be proactive to seek the most current treatments available, and to better manage PCOS.
In addition to an excellent index and glossary, the book includes great resources on research that is continuing in this field and the importance of participating in clinical trials, as there is still so much that is unknown about this condition. It would be a good addition to any consumer health library shelf.
Theresa Johnson,
MLIS
Sutter Resource Library
Sacramento , CA 95816
Library Journal
Living with P.C.O.S.: Polycystic Ovary Syndrome
Boss, Angela (Author)
Sterling, Evelina Weidman(Author)
Legro, Richard S. (Author)
ISBN: 1 886039496
Publisher: Addicts Books
Published: 2001-01
Binding/Price/Pages: Paperback,$14.95(175p)
Subject: Health & Fitness / Women's Health – General
General; Medical I Gynecology & Obstetrics
Reviewed: 2001-02-01
Review of first edition of Living with PCOS
Polycystic Ovary Syndrom (PCOS), named after the cysts that may form in the ovaries, is a hormone disorder that
causes irregular menstrual cycles. obesity, and inferHlity, among other symptoms. If untreated, it can lead to heart
disease, diabetes, and uterine cancer. This is a book about and by PCOS women (co-authors Boss and Stealing both
have it; physician Legro is an expert on the syndrome), which is evident in their easy-to-understand descriptions of
he disorder, its symptoms, medical diagnosis, and treatments (including alternative methods) as well as the
emotional impact. Colette Harris's PCOS: A Woman's Guide to Dealing with Polycystic Ovary Syndrome (LJ 8/00) is
a more difficult read (more medical jargon with a more British slant) but does offer a four-point management plan to
combat the disorder. Both volumes are valuable to any women's health collection, but Boss and Sterling's is
preferable to an American audience with its easy-to-read format. separate chapter on infertility, and important
references to national organizations like Resolve.
DLisa A. Enrico-Cox, Nassau Community Coll. Lib., Garden City, NY