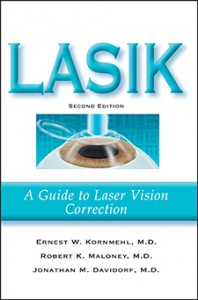 REVIEW
From the Consumer Connection
LASIK: A Guide to Laser Vision Correction. Second edition. Addicus Books, 2006
Kornmehl, Ernest W., M.D.; Maloney, Robert K., M.D.; and Davidorf, Jonathan M., M.D.  130p. ISBN: 1-8860-3979-8. $14.95.
LASIK: A Guide to Laser Vision Correction provides an excellent overview of the pros and cons of LASIK (Laser In Situ Keratomileusis) surgery. Written by three highly trained surgeons, this book begins with an introduction to the anatomy of the eye, an explanation of how vision works, and a brief history of laser vision correction. The authors then explain how consumers can determine whether they might be good candidates for this procedure, offering sample questions consumers could pose when consulting with surgeons about undergoing LASIK surgery.
The authors also discuss qualifications that prospective patients should consider when selecting a surgeon to perform LASIK surgery. They mention asking for referrals from other patients or eye care practitioners, locating board-certified ophthalmologists, checking surgeons' credentials via the Internet, considering the number of times a specific surgeon has performed the procedure, and checking into the surgeon's level of expertise in the use of up-to-date equipment for this type of surgery. The authors do acknowledge that information obtained from the Internet may be inaccurate or incomplete, so the consumer must be cautious when relying upon Internet resources.
In the last several chapters, the authors describe the LASIK procedure in detail, what to expect after the surgery, the chances for success, the risks and complications, and additional resources that may be helpful. The "Risks and Complications" chapter provides an invaluable analysis of the potential risks as well as the benefits of this procedure so that the consumer can make an informed decision.
Highly recommended for consumer health and public libraries.
Reviewed by: Donna Timm, MLS, Head of User Education, Louisiana State University Health Sciences Center, Medical Library, Shreveport, LA.
REVIEW
Library Journal 
LASIK: A Guide to Laser Vision Correction. 2d ed.
Kornmehl, Ernest W., M.D. & others.
Addicus Books. Nov. 2006. c.132p. illus. index.
ISBN 1-886039-79-8 trade paperback $14.95 HEALTH Nov 2006
Laser-assisted in situ keratomileusis (LASIK) continues to grow in popularity as a viable and relatively safe way to correct faulty vision. This pithy book by Kornmehl, Robert Maloney, M.D., and Jonathan Davidorf, M.D., is a complete update of the 2000 first edition (not seen). The authors explain the parts of the human eye, how vision functions, and common problems that affect the way we see. They describe the development of the LASIK procedure, its clinical trials and ultimate approval by the FDA in 1999, and the current statistical success of the procedure.
They also provide readers with criteria for selecting a competent surgeon; inform them about parameters surgeons use to evaluate probabilities of success; and tell them what they should expect when considering the procedure as well as what to expect from the initial consultation and evaluation, surgery, and recovery. Wavefront technology, photorefractive keratectomy (PRK), and other vision-correction procedures are also explained. The color illustrations are clear and instructive, and the risks and complications associated with the procedure are well delineated. This excellent resource is recommended for consumer health collections.
Janet M. Schneider, James A. Haley
Veterans' Hospital Library, Tampa
REVIEW
Booklist
LASIK: A Guide to Laser Vision Correction
Ernest Kornmehl, M.D., Robert K. Maloney, M.D., Jonathan Davidorf, M.D.
LASIK (Laser in Situ Keratomileusis) has become such a popular and over-hyped procedure that prospective patients need the understandable account of the process that this small book provides. Its three well-trained and experienced authors begin with the anatomy and physiology of the eye and the meanings of those cryptic numbers on a prescription for glasses.
After summarizing LASIK's history, they discuss what conditions make one a good candidate for it and the qualifications a prospective patient should seek in a LASIK surgeon Those include training, experience. and using eye-tracking and other up-to-date procedures and equipment. Reports from patients who have undergone LASIK can be helpful, they say, but information on the Internet is much less valuable and may be misleading. They describe the operation proper and postoperative processes in detail. look closely at risks and possible complications, and conclude with lists of further informational resources. Clear in both text and illustrations, this patient adviser should be a good circulator.
William Beatty—American Library Association