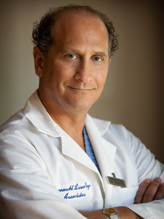 Ernest W. Kornmehl, M.D., F.A.C.S., is a board-certified ophthalmologist at the Center for Laser Vision Correction, in Brookline, Massachusetts. He is a member of the Keratorefractive Surgery Service at the Massachusetts Eye and Ear Infirmary, Harvard Medical School; a member of the Cornea and Refractive Surgery Service at the New England Eye Center; and an Associate Clinical Professor in Ophthalmology, Tufts School of Medicine. Dr. Kornmehl is a Clinical Instructor at Harvard Medical School and has taught surgery for nearsightedness and astigmatism at the American Academy of Ophthalmology since 1987. He completed his Ophthalmology Residency at the Yale Eye Center, Yale School of Medicine, and completed a Heed Fellowship in Corneal Surgery at the Massachusetts Eye and Ear Infirmary, Harvard Medical School.
Dr. Kornmehl has been awarded several research grants from the National Institutes of Health. A recipient of the American Academy of Ophthalmology Honor Award for his numerous scientific presentations and instruction courses, Dr. Korhmehl serves as an examiner for the American Board of Ophthalmology, is on the Executive Board and Past President of the Massachusetts Society of Eye Physicians and Surgeons, is on the Board of Directors and Past President of Boston Aid to the Blind, and serves on the Massachusetts Commission for the Blind.
He is the co-developer of the S-K (Swinger-Kornmehl) Solution used to reduce corneal swelling, and developer of the Kornmehl LASIK System, specialized instruments used by refractive surgeons around the world. Dr. Kornmehl lectures nationally and internationally, has authored numerous scientific publications and chapters in textbooks, and is on the editorial board of Ophthalmology Times, and Eyenet, the official publication of the American Academy of Ophthalmology. He has appeared on national television broadcasts, including CBS Evening News/Healthwatch, CNN, World News Tonight with Peter Jennings and the Today Show.
Ernest W, Kornmehl, M.D.
Kornmehl Laser Eye Associates
44 Washington St., Rt. 9 / Brookline, MA 02445
62 Walnut Street / Wellesley, MA 02481
Tel: (877) 870-2010
www.VisionBoston.com
Titles by this author: