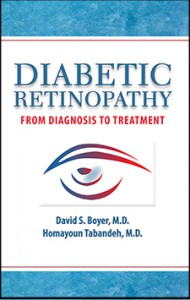 REVIEW
The Consumer Connection
A publication of the American Medical Library Association
Diabetic Retinopathy: From Diagnosis to Treatment
by Homayoun Tabandeh, MD and David S. Boyer, MD
Addicus Books, 2014 / 140 pages / Index.
ISBN 978-1-936374-44-1 / Price: $19.95.
Diabetic Retinopathy was written by two well-known retina specialists. It is a clear, concise volume—no stories from patients—just the facts about diagnosis, treatment and coping. Although not a formal large type book, the font is larger than most books and wide margins make it easier for those with visual impairment to read. The book includes many clear black and white illustrations and photographs of equipment and imaging studies, including a section of full-color plates.
Ending of each chapter are summaries with bulleted lists of the most pertinent information, and an appendix contains a resource list. The condition abounds with difficult terminology (such as trabecular meshwork), which are italicized in the text and defined in a glossary. The text provides trade and generic medication names, and acronyms are included in parentheses following text. The content is comprehensive, and readers are given questions to bring to their appointments, as well as advice on tangible items to bring (glasses, contact lenses, sunglasses, etc.)
Medical, surgical and lifestyle interventions are provided, such as controlling blood sugar and maintaining good cardiovascular health, although the book does not include complementary therapies. The chapter on coping with vision impairment discusses general as well as diabetes-specific strategies and resources, such as "talking" glucose meters. This book should provide answers to most questions from patients diagnosed with diabetic retinopathy and is a welcome addition about a condition with very few consumer health books available.
Review by Cara Marcus,
Brigham and Women's Faulkner Hospital
Boston, MA