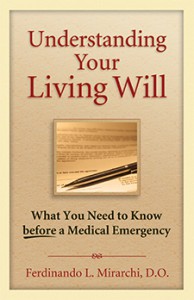 REVIEW
Consumer Connection
Newsletter of the Medical Library Association
Understanding Your Living Will: What You Need to Know Before a Medical Emergency
Mirarchi, Ferdinando L. Addicus Books, 2006. 120 p. Index. ISBN 1-886039-77-1. $12.95.
Living wills receive renewed attention whenever a controversial case involving a patient's right to die with dignity arises, it seems. However, as this author, an osteopathic emergency care physician, points out, living wills themselves are often confusing, arcane legal documents that can cause serious misunderstandings among patients, families and healthcare workers, thereby contributing to rather than lessening the problem.
Dr. Mirarchi's goal is to provide information about various procedures and their uses and usefulness for different types of patients–for example, hospice care patients. In doing so–particularly in the first few chapters–readers may end up even more confused due to the complexity of the topic and the attempt to cover it in a few brief chapters. However, the work is redeemed once Mirarchi begins to lay out his "Medical Living Will with Code Status" in Chapter 5. At this point, with the proposed living will document appended to go by and step-by-step instructions to follow, the book finally realizes its aim of providing a means of enabling physicians and family members to proceed with confidence about the patient's wishes during life-threatening emergencies.
The "Medical Living Will with Code Status" is a valuable tool, and a glossary helps to explain the inevitable medical and legal terminology. There is also a bibliography and a list of resources for further information, including referrals to legal aid resources for those unable to afford a private attorney. Despite its missteps (including a disconcerting tendency by the author to quote himself in third person), Understanding Your Living Will would be a valuable addition to any consumer health collection.
Kay Hogan Smith
UAB Lister Hill Library of the Health Sciences
Birmingham, AL