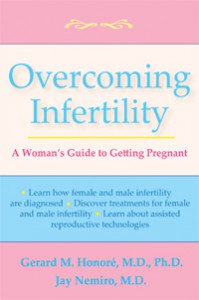 REVIEW
Consumer Connection
Overcoming Infertility: A Woman's Guide to Getting Pregnant
Honoré, Gerard M. and Nemiro, Jay S.  Addicus Books, 2010. 142 p., glossary, index. ISBN 978-1-886039-16-2. $19.95.
Infertility – or "subfertility" in the parlance of fertility specialists, as a nod to the technological advances that make conceiving a child a possibility for the vast majority of would-be parents – is undeniably heartbreaking for women (and men) who long to get pregnant. In response to this fundamental longing as well as the recent explosion in reproductive technological advances that make conception a possibility in the most unlikely cases, there has also been a rise in the number of books dedicated to helping subfertile couples navigate the confusing and expensive world of advance reproductive technology. Drs. Honoré and Nemiro are reproductive endocrinologists with a wealth of experience in helping such couples, casting a glow of authority on their slim guide. Through their well-organized chapters, they address the underlying physiological basis and treatment approaches for the various causes of both male and female infertility. While the work is not long, it is comprehensive in its scope, and it includes advice regarding the cost of procedures and even such emotionally fraught considerations as a "gestational carrier" (surrogate mother).
It is perhaps the authors' very expertise that makes this work somewhat less accessible than others on the market. The reading level is quite high, and even the helpful glossary of terms at the end doesn't overcome the rather pedantic tone. Of course, the subject matter is very complicated and difficult to translate into everyday language. In addition, some patients will undoubtedly appreciate the authors' respect for their ability to work at understanding all the medical nuances of their quest for children. For this reason, this reviewer recommends that, where possible, libraries purchase both this book as well as others, such as the less densely written 100 Questions and Answers About Infertility (Jones & Bartlett, 2nd ed., 2010). Both should find a welcome reception among users dealing with fertility problems.
Kay Hogan Smith
UAB Lister Hill Library of the Health Sciences
Birmingham, AL