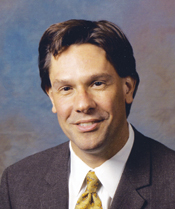 Gerard M. Honoré, Ph.D., M.D., is the founder of Perinatal & Fertility Specialists of San Antonio, Texas, a center that offers comprehensive fertility care including a highly successful IVF program. As a reproductive endocrinologist, he specializes in advanced reproductive technologies, particularly in vitro fertilization, as well as surgery for endometriosis, polycystic ovarian syndrome and other infertility-related problems.
Dr. Honoré earned his Ph.D. in physics from Duke University, Durham, N.C. and his medical degree from Bowman Gray School of Medicine of Wake Forest University, Winston-Salem, N.C. He completed a residency in obstetrics and gynecology through Bowman Gray, followed by a reproductive endocrinology and infertility fellowship at the University of Texas Health Science Center at San Antonio.
He's authored numerous peer-reviewed articles and book chapters in reproductive medicine. Board-certified in obstetrics and gynecology, Dr. Honoré is also a fellow of the American College of OB/GYN, and a member of numerous professional organizations devoted to reproductive medicine.
Titles by this author: